SpraySpy LabLine
The

SpraySpy®

LabLine
The SpraySpy® LabLine is specially developed product group of measurement systems for the individual demands of Researchers and developers.
The instruments measure spatially resolved single droplet events. As a standard these information will be calculated into histograms and standard characteristic performance parameters. In addition the measurement results are saved and can be evaluated individually.
Different patented innovations are implemented into the SpraySpy®-technology. This makes SpraySpy® products easy to use and a reliable expansion of the established droplet measurement technologies.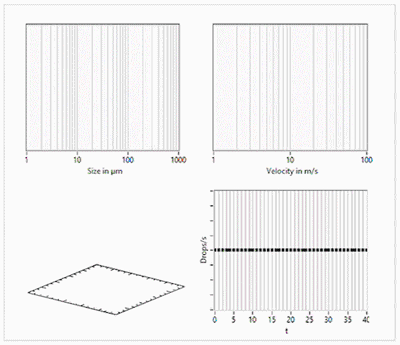 SpraySpy® Highlights:
Simultaneous measurement of size and velocity of drops

Characterization of the momentum and flux density

Measurement and separate analysis of transparent and non-transparent drops

Measurement of the detection time of each droplet

Inline measurement of the spray quality in the production process

Easy-to-use without adjustment

M

easurement under explosive conditions (ATEX) and during electrostatic atomization
Further Information:
Use Cases:
Characterization of a bell atomizer:
Characterization of the spray parameters. Even small deviations in the operating parameters of the atomizer (example: air flow, rotation speed or volume flow) are detected with SpraySpy®.
The digital spray pattern: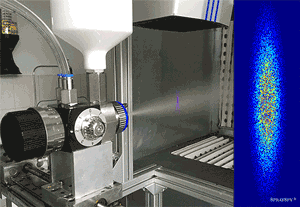 The digital spray pattern is used to characterize the spray or to monitor the nozzle. The resulting false color picture shows, for example: volume flow rate, drop size, velocity, kinetic energy,… . For more information see here.